Want to make scrambled eggs on the griddle? I recently tried four different cooking methods, and I'm sharing my secrets for the perfect griddle scrambled eggs!
Making scrambled eggs on the Blackstone griddle is probably one of the easiest things to do, but it can also be the most controversial. It seems like everyone has an opinion about how to make eggs on the griddle, whether it's adding milk to make them creamier or adding water to make your eggs fluffier. Butter or oil… Salt and pepper before scrambling or while they're cooking… Chopping or stirring.
For a simple one ingredient breakfast dish, there are certainly a bunch of different ways to make griddle scrambled eggs.
But which method will give you the best scrambled eggs on the griddle or flat top grill?
Well, I bought a dozen large eggs and tried out all of the popular cooking methods to find out!
Adding Water, Milk, or Cream to Scrambled Eggs
You may have heard that adding a liquid such as water or milk to your scrambled eggs before cooking can make your eggs fluffier or creamier. But does it really matter? Is one liquid better than another, or do you really need to add anything at all?
After getting so many comments from people telling me that I need to add water for fluffy eggs or that they always add heavy cream to their scrambled eggs, I decided to try it out for myself on a recent YouTube video.
For my mini experiment, I added two large eggs each to four different bowls. Then, I added an equal amount of salt and fresh cracked pepper to each bowl. Next, I added 1 tablespoon of water to one of the bowls, 1 tablespoon of heavy cream to another bowl, and 1 tablespoon of milk to another. For the last bowl, I didn't add any liquid, but instead I added a little extra butter to the griddle before cooking the eggs.
Here's a picture of the eggs before I scrambled them:
After cooking the eggs on the griddle and trying to keep all other aspects of the cook the same (like the heat, the placement on the griddle, etc.), my wife and I both agreed that the eggs mixed with water, milk, and heavy cream all tasted the same. If you were to blindfold us and have us taste each variety, we definitely wouldn't have been able to pinpoint which scrambled eggs were mixed with milk and which were mixed with water.
In fact, all three of those varieties tasted rather bland compared to the fourth set of scrambled eggs… The ones that had a bit extra butter, like I always make them. The eggs that had about 1 tablespoon of butter mixed in while they were cooking tasted much richer and definitely more flavorful.
Moral of the story – If you're going to add anything to your scrambled eggs, add butter.
What Griddle Temp for Eggs?
The key to making griddle eggs is to make sure that your griddle or flat top grill is set to the right temperature before pouring on the eggs. Too hot and your eggs will cook too quickly and are more likely to brown. Too cold and your eggs will take too long to cook, and your muffin mix pancakes may get cold.
So what griddle temp for eggs should you use?
Cook scrambled eggs on the griddle at about 275 – 325 degrees.
If you're familiar with griddle cooking, then you know that the griddle temperature can fluctuate quickly, and it's difficult to give an exact cooking temperature because as you add cold ingredients to the flat top, the temp will drop drastically. Also, the temperature range across the surface of your griddle will be HUGE depending on what area of the surface you're using. For instance, on my Blackstone griddle, the sides may be 50 degrees cooler than the middle, even with all of the burners turned to the same heat setting.
But if you cook your scrambled eggs on the griddle anywhere in the high 200's or low 300's, you should be fine.
How to Make Perfect Scrambled Eggs on the Blackstone Griddle
Making griddle scrambled eggs is easy, especially if you have a well seasoned griddle before you start. Just think of how you make your eggs inside on the stovetop, and it works pretty much the same way. In fact, most recipes that you make in a skillet can also be made on a griddle.
Here's how to make my favorite scrambled eggs on the Blackstone griddle:
Step 1: Preheat your griddle to the correct temperature.
If you've watched me cook on my YouTube channel, then you know that 95% of the time, I recommend cooking with your griddle temperature knobs set to low. Most griddles can reach extremely hot temperatures even on the low setting because the burners are always on and the steel griddle tops continue to build heat.
Turn your griddle on to low and allow it to preheat to that perfect 275 – 325 degree range before adding your scrambled eggs.
If you notice that your griddle is too hot, you can either turn off one or two burners or add a squirt of water to the griddle surface to quickly reduce the temperature like this:
Most of the water will quickly evaporate as steam, and you can use your scraper to push the excess water to the grease trap. Then, your griddle should be quite a bit cooler and you can add the eggs.
Step 2: Scramble the eggs in a bowl.
Crack your eggs into a bowl, and add salt and pepper before whisking the eggs together with a fork.
If you want to add a liquid like milk or heavy cream, you can do that now, but like I mentioned earlier, I couldn't tell the difference when I tested the different variations for scrambled eggs. Still a butter believer, which we'll talk about in the next step.
Step 3: Cook the scrambled eggs on the griddle.
When your eggs are well mixed, add about 3/4 to 1 tablespoon of butter (for two eggs) to the griddle, and slowly pour the scrambled eggs in to the butter as it is melting, like this:
Notice how the butter is not fully melted so that those fats can marry with the eggs and create a rich flavor? This is different than rubbing the melted butter into the surface to use as a lubricant.
Once your eggs are on the griddle, what you do next and how you handle your spatula will be the difference in fluffy scrambled eggs or rough and crumbly eggs. Some people prefer a "choppier" and drier texture for their scrambled eggs, and that's fine… I always say, "Make what you like".
But if you like your griddle eggs to be nice and fluffy, I recommend a "pulling" method rather than a "chopping" action. Here's what I mean:
See the layers or folds that develop as you pull and push the eggs with the spatula? That's what you want. In my experience, this method is the best for making griddle scrambled eggs.
You can also use your bench scraper the same way, or if you have a rounded edge spatula like my favorite griddle spatulas, then you can use the tip of your spatula as well. The important part is to "pull" the eggs rather than "stirring" or "chopping" them.
Continue to cook the eggs on the Blackstone griddle until they're done to your liking. Then, use your spatula to take them off the griddle and you're done!
Griddle cooking doesn't get much easier than that!
Tips for Cooking Griddle Eggs
Here are some of my other tips for cooking eggs on the griddle or flat top grill:
Season your scrambled eggs before adding them to the griddle. You can mix salt and pepper (or your favorite egg seasonings) into the eggs while you're whisking them. Sometimes if your griddle is too hot, the eggs will cook very quickly and you don't want to burn or overcook your scrambled eggs while you take the time to season them while they're on the griddle.
Use your butter as a temperature gauge. If you put a pad of butter down on the griddle and it immediately starts to burn and turn brown, then the griddle is too hot. If you were to add your scrambled eggs, then they would cook too quickly, just like the butter.
Cook griddle eggs in smaller batches. I would much rather cook 4-6 eggs three times than try to cook 18 eggs at once. If you pour 18 scrambled eggs on the griddle, they'll run all over the place and they're more difficult to control.
Pull the eggs right before you think they're done. Kind of like cooking meat, the eggs will continue to cook and set up just a bit after you take them off the griddle. Pull the eggs off the griddle when they're still slightly wet.
What to Serve with Griddle Scrambled Eggs
If you want to try a more gourmet scrambled egg breakfast, then our absolute FAVORITE way to eat eggs is with sliced avocado, some crumbled goat cheese, and a sprinkling of Everything Bagel seasoning.
More of a traditional pancakes and hash browns kind of person? Try these breakfast griddle recipes, both of which would be fantastic with griddle scrambled eggs:
Hash Brown Casserole Griddle Cakes on the Flat Top Grill – These delicious hash brown "cakes" are like a cross between crispy fried hash browns and the hash brown casserole that you get from Cracker Barrel. Definitely one of our favorite "cheat day" griddle breakfast recipes!
Muffin Mix Pancakes on the Griddle – Our go-to pancake recipe includes an unexpected addition… packaged dry muffin mix. You can add in whatever flavor of muffin mix that you like, but our kids prefer these chocolate chip muffin mix pancakes, with extra chocolate chips, of course! And this pancake recipe is so easy that even my wife has mastered it, and that's saying a lot!
And don't forget to save this easy scrambled egg griddle recipe to your Blackstone Griddle board on Pinterest: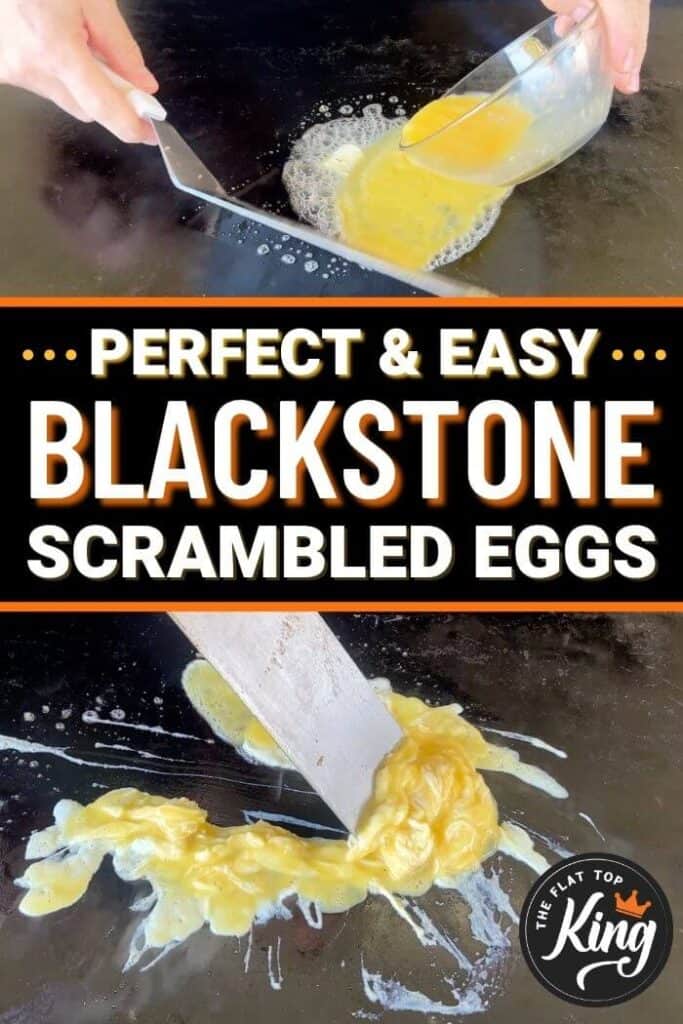 My Favorite Griddle Scrambled Eggs Recipe
Griddle Scrambled Eggs
These griddle scrambled eggs are made with a few simple ingredients. Just butter, salt and pepper for the best rich and fluffy scrambled eggs on the griddle or flat top grill.
Ingredients
4 large eggs
salt and pepper
2 tablespoons butter
Instructions
Preheat Blackstone griddle on low heat.

While griddle is heating, whisk together eggs, salt, and pepper in a medium sized bowl until well mixed.

When griddle reaches about 275-325 degrees, add a small amount (about ½ tablespoon) of butter or high heat cooking oil to the heated griddle and rub it around with your spatula to lubricate the griddle surface.

Add about 2 tablespoons of butter to the griddle. Immediately begin to slowly pour the whisked eggs into the pad of butter as it is melting. The eggs will begin to bubble up and set.

Once the eggs begin to set up a bit, use your spatula to pull and push the eggs over the griddle as they cook, creating layers or folds in the eggs. Continue this motion until eggs are cooked but still slightly wet.

Remove the scrambled eggs from the griddle and serve immediately while still warm.
Notes
The eggs will continue to cook and set up a bit after you take them off the griddle.  Pull the eggs off the griddle when they are still slightly wet so that they don't overcook and dry out.
Reader Interactions