The Oklahoma Onion Burger, sometimes called the "Okie burger" or a fried onion burger, is piled high with thinly sliced onions and smashed on a flat top grill or griddle. And it is dang delicious!
If you love the hamburgers from White Castle or Krystal, then you have got to try this Oklahoma Onion Burger. My wife is not a burger fan (she only likes a Burger King Whopper), but even she scarfed down a whole one by herself. She even said that next time I make burgers at home, I better make hers an onion burger.
It's simple. It's greasy. It's delicious. Everything you want in a burger. Here's how to do it:
What is an Oklahoma Onion Burger?
An Oklahoma Onion Burger is just a hamburger cooked with sliced onions. It was first developed during the depression when a few western Oklahoma restaurants started smashing sliced onions into their beef patties to help with food costs. At the time, ground beef was expensive but onions were more affordable, so the onions acted as a "filler" and helped the restaurants' bottom line.
This burger may sound simple, but the flavor is extraordinary. The onions help to flavor the beef, and the beef fat helps to cook the fried onions, so smashing the two together really is the perfect marriage of ingredients.
What You Need to Make the BEST Oklahoma Burger
Ingredients
The ingredients for an Oklahoma Onion Burger are few and simple, making this burger a good cheap option for feeding a crowd. Here's what you need:
Ground beef – We used 75/25 ground beef because the extra fat helps to keep the burger moist and it also flavors the onions.
Thinly sliced onions – We used Vidalia onions.
Simple burger seasoning – I just used a combination salt, pepper, and garlic powder (1 TBSP salt, 1 TBSP pepper, 1/2 TBSP garlic powder).
American cheese – Optional, but delicious!
Hamburger buns of your choice
Cooking Tools
The fried onion burger is traditionally cooked on a flat top griddle, but you can also make it in a cast iron skillet on your stovetop, or even on a charcoal grill with a cast iron griddle set on top of the grates. I have made this onion burger 2 different ways, on my Camp Chef Flat Top Grill 600 and also on my Weber Summit Charcoal Grill with a Lodge cast iron griddle.
I personally preferred the taste of the burger on the charcoal grill with the cast iron griddle, because I felt that the combination of the grill with the cast iron got screaming hot and gave the onions a nice char. However, this fried onion burger was also freaking fantastic on the Camp Chef flat top grill. Try it both ways and see what you prefer!
Mandoline vs. Knife – Which is better for thinly sliced onions?
You have two options for slicing onions super thin: using a mandolin or slicing them by hand with a knife. I tried both methods for my onion burgers, and I was able to get thinner onion slices by hand with my vegetable cleaver. However, if your knife skills aren't great, you can definitely use a mandoline set to the thinnest setting.
Taste wise, the thinner sliced onions that I cut by hand with a knife were better because I think they cooked down and caramelized more than the ones with the mandoline which were thicker.
*Chef's Tip – If you don't have a mandoline and you're not comfortable making super thin slices by hand, then pre-cook your onions on your flat top until they're about halfway done. Then, you can smash your ground beef balls into the sautéed onions and you don't have to worry about the onions not cooking enough before the beef is done.
How to Make an Oklahoma Onion Burger on Your Flat Top Grill
Step 1: Preheat your flat top grill or griddle.
Turn your burners on to high and allow your flat top to heat up. No need to add any oil or butter, because there is plenty of fat in the 75/25 ground beef.
Step 2: Roll your ground beef into balls and put on the griddle.
Form your beef into 1/4 lb balls. Then, place the balls on the pre-heated flat top like this:
Be sure to space out your burger balls enough so that when you smash them down, they have plenty of room to cook and you have space to slide the spatula underneath to flip them.
Season your burger balls with a mix of salt, pepper, and garlic powder, or your favorite burger seasoning. Don't worry about the extra seasoning getting on your flat top… it will just act as extra flavor for your onions.
Step 3: Top the beef balls with sliced onions.
Just pile your onions high on top of the beef balls. Don't worry about the onions sliding off the beef… you can adjust when you flip your burgers.
Most people smash the ground beef with the onions on top at this stage, but I did mine a bit differently. Instead of smashing the burger with the onions on top, I flipped my burger balls and onions and smashed them with the onions on the bottom of the patty.
Why did I do it differently?
A few reasons: 1) I thought that the onions would cook better in the residual beef fat right on the flat top grill, instead of being smashed on top of the burger first. 2) Having the onions on the bottom (in between the grill surface and the ground beef) helps to act as an insulator when you smash the beef, so that the ground beef does not cook as quickly, giving the onions time to get nice and caramelized.
But if you want to go with the traditional method of smashing the burger with the onions on top, that works too.
Step 4: Flip your onion burgers and smash.
After just a couple minutes, flip your burger balls and onion slices over and smash them down together on the flat top. Leaving your burger balls on the hot grill for just a few minutes helps to release some of the fat from the ground beef, so that when you flip you've got a nice pool of fat for your onions to cook in.
Step 5: Top your Oklahoma Onion Burgers with cheese and steam the hamburger buns.
Once your onions are cooked, flip your smashburgers making sure that you use your spatula to get underneath the onions and all of the delicious drippings.
Then, add one slice of American cheese to each patty. I put the cheese on top of the sliced onions to help keep the onions from falling off the burger.
I also added the buns to the flat top as shown in the photo above, so that the buns could steam and soak up some of the beef fat. You'll notice that I put the top of the bun on one patty and the bottom of the bun on another patty.
Step 6: Build your onion burger with two patties and your favorite toppings.
Since the onion burgers are thinner, I recommend doing a double patty. To easily plate your onion burgers, use your spatula to take the patty with the bottom bun and turn it upside down on your plate. Then stack the other patty and bun on top.
As far as toppings go, I would recommend just yellow mustard and pickles, similar to a White Castle hamburger. Or you could even eat it without toppings since it's so juicy and flavorful.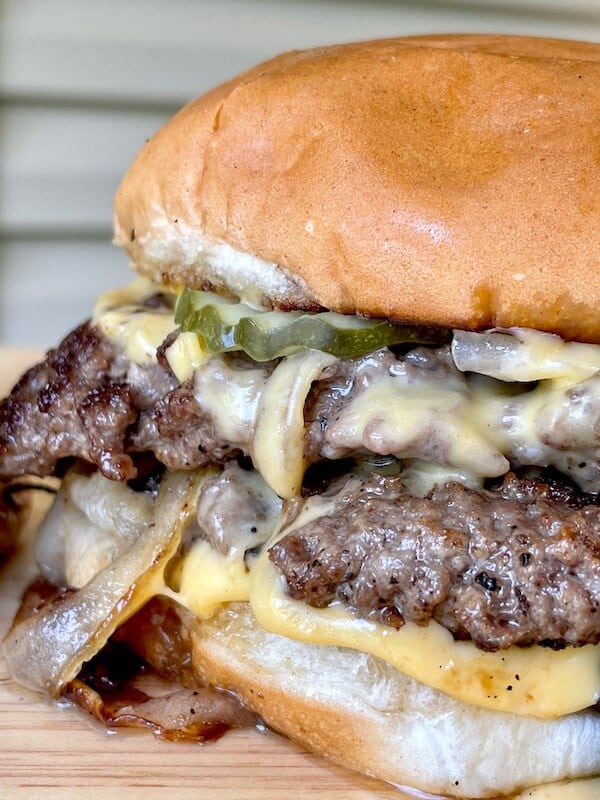 If that picture doesn't make you want to run to the grocery store right now for ground beef and onions, I don't know what will!
If you try it, be sure to leave me a comment down below letting me know what you think! And if you want to try another awesome smash burger to make on your Camp Chef or Blackstone, check out my Taco Smashburger made with chorizo:
Want to watch me cook this onion burger? Visit my YouTube Channel! Or go ahead and print the recipe down below:
Oklahoma Onion Burger
This Oklahoma Onion Burger is made with thinly sliced onions smashed into ground beef on a flat top grill, griddle, or cast iron skillet. So dang delicious that you don't even need toppings! Or serve it with yellow mustard and pickles if you love White Castle.
Ingredients
1 lb. 75/25 ground beef
1/2 sweet onion
simple burger seasoning – We used a mix of salt pepper, and garlic powder (ratio 2:2:1).
4 slices American cheese
2 hamburger buns
yellow mustard and pickles optional
Instructions
Preheat your flat top grill or griddle on high. If using a cast iron skillet, preheat on medium heat.

Thinly slice the onion using a knife or mandoline on the thinnest setting.

Roll the ground beef into 1/4 pound balls. TIP – Form the beef into a log shape, cut in half, and cut each half in half again to get approximately 1/4 pound burgers.

Place the ground beef balls on the preheated flat top grill or in the cast iron skillet. Sprinkle seasoning on top.

Add an equal amount of thin-sliced onions to the top of each ground beef ball.

Allow the burger balls to cook as is for about 2 minutes to start to form a nice char on the bottom.

After about 2 minutes, carefully flip the burger balls so that the sliced onions are now on the bottom, in contact with the flat top or cast iron skillet.

Using two spatulas for leverage, smash the ground beef balls down into the onions. Allow the onion burgers to cook until almost done.

Flip the onion burgers. Top each onion burger patty with one slice of American cheese.

Place one bun half on top of each patty. This allows the bun to steam in the burger fat.

Build your Oklahoma Onion Burger with two patties. Top with yellow mustard and pickle or your favorite burger toppings.
Video
Reader Interactions