Whether you call this burger a breakfast burger or a hangover burger, you'll definitely call it delicious! Make this awesome burger on the Blackstone griddle, the Camp Chef flat top grill, or the Pit Boss Ultimate griddle like I did… Just make it! And thank me later.
I've gotten a few requests to make a breakfast burger on the griddle, and since I'm always looking for awesome burger recipes AND breakfast ideas, I was happy to oblige.
This flat top grill burger recipe is so easy to make, but it packs a HUGE punch of flavor. By combining ground beef and ground breakfast sausage to make the burger patties, you're really making two griddle favorites in one epic dish… Smash burgers for breakfast! What's not to love?!
And when you bite into this burger, trust me, you'll LOVE it! Just watch me cook this on my YouTube channel and you'll see that I can't hide my excitement after taking the first bite. None of the flavors overpowers the others, and everything is perfectly balanced, from the soft egg, to the crispy hash browns, to the slightly spicy sausage burger patty. This epic and easy to make flat top grill burger really is the epitome of breakfast on a bun!
Ingredients for the BEST Breakfast Burger
This breakfast burger (or hangover burger) consists of your common breakfast ingredients with the addition of some ground beef and a hamburger bun. Here's what you need:
80/20 ground beef
hot breakfast sausage – The extra heat from the hot sausage is just right when you combine it with the ground beef. My wife doesn't really like spicy food, but she devoured this griddle burger!
bacon
shredded hash browns – We used frozen shredded hash browns because that's what we already had on hand, but we also really like the refrigerated shredded hash browns from the Simply Potatoes brand.
diced onions – I like to add sautéed onions to my hash browns, but they're optional.
American cheese
eggs
hamburger bun
avocado oil – Or your choice of cooking oil
How to Make a Breakfast Burger on the Griddle
This awesome griddle burger recipe is so easy to make. If you can make smash burgers and breakfast on your flat top grill, then you can make this delicious burger… and trust me, you'll want to make it again and again. Here's how to do it:
Step 1: Preheat your griddle and start cooking some bacon.
As always, I recommend preheating your griddle on the low heat setting… even on low a flat top grill can reach very high temperatures, and remember, you'll be cooking a sunny side up egg for this hangover burger, so you don't want your griddle surface too hot.
As your griddle is coming up to temp, you can go ahead and start cooking some bacon slices. I cooked two slices of bacon for each full breakfast burger, which I think was the perfect amount to balance the other breakfast ingredients.
Step 2: Mix your breakfast burger patties.
While your bacon starts to cook, make the patties for your breakfast burger by combining equal amounts of ground beef and breakfast sausage. You'll probably want to mix the two meats together with your hands so that they're fully combined.
Then, roll the meat into balls that are about 3 – 3.5 oz. in weight, or a little bit larger than an egg. This is similar to making smash burgers. I was able to get about 10 balls of meat from two pounds of total meat (one pound of 80/20 mixed with one pound of hot breakfast sausage).
Set the breakfast burger balls to the side while you cook the other ingredients.
Step 3: Add onions and hash browns to the griddle.
If you want crispy hash browns for your breakfast burger (which I highly recommend), then they'll take a little bit of time to cook… Like I always say, there's two things you need for crispy hash browns – lots of patience and oil.
*If you want more tips for how to make crispy hash browns on the griddle, be sure to check out this YouTube video where we try 3 different types of shredded hash browns!
If you're familiar with my YouTube channel, you also know that another tip for flat top grill beginners is to plan what ingredients you'll cook first. Certain ingredients or components for your finished dish will take longer to cook than others, so those will need to go on the griddle first. For instance, bacon takes much longer to cook than eggs… If you cook eggs first before your other breakfast items are done, then your eggs will just get cold.
This hangover burger is no different.
Since the bacon and hash browns take the longest time to cook, you'll want to add those to the griddle first. As you can see, I cooked the hash browns and onions separately. For reference, I used this amount of onions for two breakfast burgers, and the pile of hash browns in the photo below was for one burger:
When the onions were cooked, I add them to the top of each of the hash brown patties before flipping the hash browns to the second side.
Another quick tip – Your hash browns are ready to flip when you can slide them around the griddle in one solid patty.
Step 4: Cook your burger patties on the griddle, smash burger style.
While the hash browns continue to cook, go ahead and start cooking your burger patties. Add each burger ball to the griddle surface, making sure to leave enough space in between each one so that you can smash down into patties and still get your spatula underneath to flip.
You can definitely smash down your patties by applying pressure with your spatula, but I find it easiest to use a heavy press with a piece of parchment paper in between the press and the patty. The paper keeps the raw burger meat from sticking to your press, and it makes it much easier to smash.
This is about the thickness that you want for these burger patties, so not completely paper thin and lacy like a smash burger, but still thin enough to stack two patties together on your hangover burger: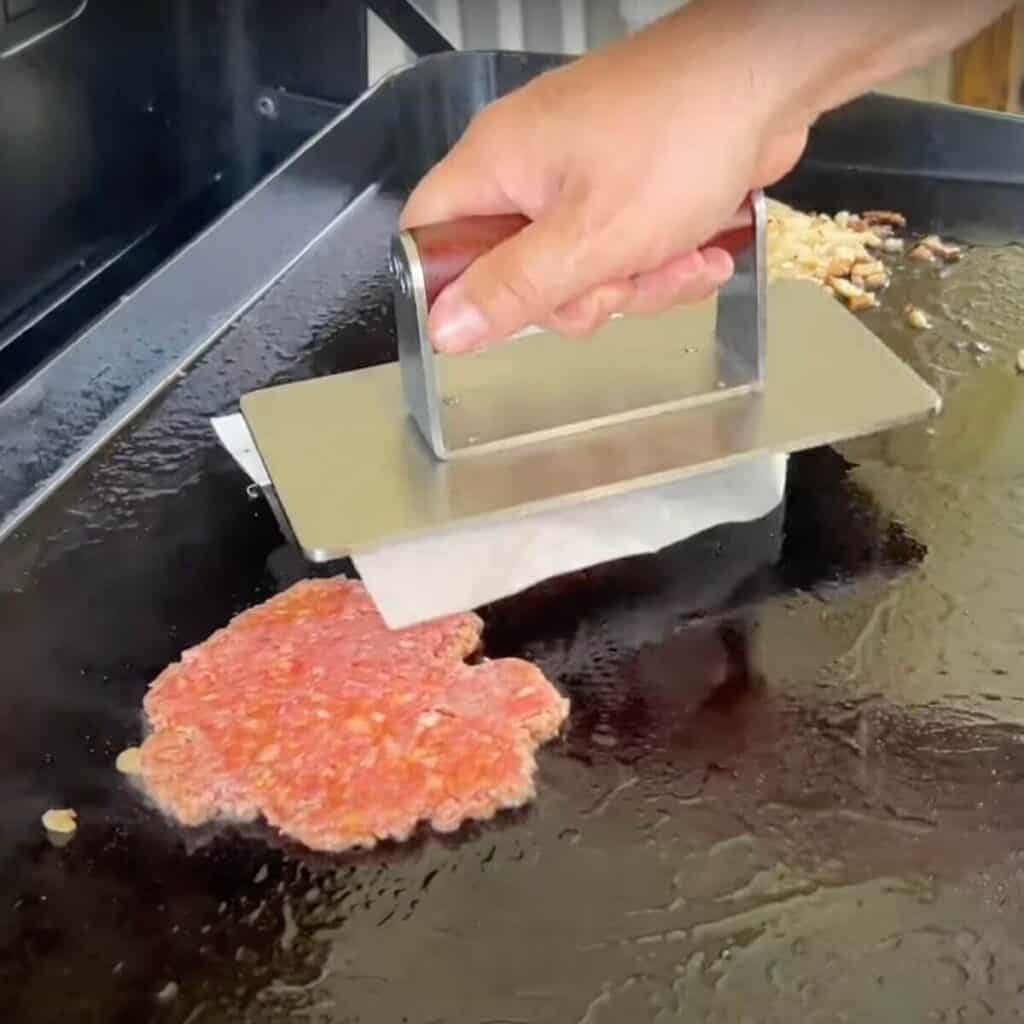 Step 5: Fry an egg sunny side up.
When all of the other burger components are almost done cooking, go ahead and cook your sunny side up eggs. Choose the coolest side of your griddle for the eggs, because you don't want the bottom of the over easy egg to burn before the top is done.
One tip for cooking the over easy eggs – After you break the egg on the griddle, add a squirt of water around the egg (not on top!) and then dome it. You can find my favorite dome and wire rack combo in this post – 6 Flat Top Grill Accessories You Must Have for Your Outdoor Griddle. The dome acts like an oven and helps to cook the food underneath with 360 degree heat and the squirt of water on the hot griddle surface adds steam, so the top of the eggs will cook more quickly.
Cook the eggs to your desired doneness, but for this burger, I recommend a good over easy. The yolk of your egg will break and ooze down over the hash browns and burger patties when you eat it. Delicious!
Step 6: Build your breakfast burger and enjoy!
After all of the components for your breakfast burger are cooked, it's time to build it!
I stacked two cheeseburger patties on top of the bottom of the toasted bun. Then, I added the crispy hash browns on top of that. Finish your delicious burger by adding the sunny side up egg, two strips of bacon, and the top bun.
Then enjoy your new favorite burger to make on the Blackstone, Camp Chef, or Pit Boss griddle! And yes, this burger was so good that even my wife ate an entire one herself, bun and all!
Want to print this easy flat top grill burger recipe? Feel free to print the recipe card below and add it to your list of breakfast (or dinner) recipes to try on your griddle:
The Ultimate Breakfast Burger on the Griddle
This breakfast burger on the griddle is perfect to make anytime of day. Sometimes called a hangover burger, this awesome flat top grill burger has everything you want in a big greasy breakfast piled high on a hamburger bun! For breakfast or dinner, it won't disappoint!
Equipment
Tennessee Pride Hot Breakfast Sausage
Ingredients
10 slices bacon
1/2 onion diced (optional)
2 1/2 cups shredded hash browns
1 pound 80/20 ground beef
1 pound hot breakfast sausage ground – I recommend the Tennessee Pride brand
10 slices American cheese 1 slice for each burger patty
avocado oil
butter
5 eggs
hamburger buns
salt and pepper to taste
Instructions
Preheat your griddle on low.

While griddle is heating, make breakfast burger patties by combining ground beef and ground breakfast sausage. Roll the meat mixture into balls about 3 – 3.5 ounces in weight (slightly larger than an egg). Set aside.

Cook enough bacon to add 2 slices of bacon to each double-stacked breakfast burger (2 slices of bacon for 2 burger patties).

When the bacon is almost cooked through, move it to the side of the griddle.

Add some avocado oil and a pad of butter to the bacon grease that's leftover on the griddle where the bacon was cooking. Cook diced onions and shredded hash browns in the grease and oil. For each burger that you're making, cook a "patty" of about 1/2 cup hash browns on the griddle.

When the onions are cooked, add them to the top of each hash brown patty. Once your hash browns are golden brown and crispy on the first side, flip them to the second side and continue to cook.

Add burger balls to the griddle. Press each burger ball down like you would a smash burger. You want these burgers to be slightly thicker than a smash burger, not paper thin.

Cook the burger patties on the first side until a nice crust develops and they are about 75% cooked through. Flip burger patties to the second side.

Once you flip the burgers, add one slice of American cheese to each patty.

Dab the cut side of your hamburger buns in the leftover oil/grease and toast on the griddle.

Cook one egg for each breakfast burger, sunny side up style.

When the burgers are cooked through, stack one patty on top of another to form a double stack. Remove from the griddle.

To build your breakfast burger, add the double stacked patties with cheese on top of the bottom toasted bun. Top with a patty of crispy hash browns, sunny side up egg, and bacon. Add top bun.

Serve hot and enjoy!
Notes
*This recipe is for 5 full breakfast burgers. We mixed enough meat for 5 burgers, but we kept the other burger patties as leftovers to reheat later in the week. As an easy leftover idea, crumble the cooked burger patties into some scrambled eggs and add some cheese and diced onions/peppers for a breakfast scramble.
Reader Interactions