Need griddle burger recipes to make on the Blackstone griddle or other flat top grill? Get my best tips for cooking burgers on the griddle, like what griddle accessories you need and what griddle temp is best! Plus, try some of my favorite flat top grill burger recipes!
There are few things you can eat that are better than a juicy burger cooked on the griddle. And while the classic smash burger is definitely a favorite among flat top grill owners, it's not the only hamburger deserving of a spot on your griddle.
Here are 8 different griddle burger recipes that can convert your burger-hater into a cheeseburger enthusiast, plus everything that you ever wanted to know about cooking burgers on the Blackstone or other griddle:
*This post contains affiliate links, which means if you click a link and make a purchase, I earn a commission at no additional cost to you. Read my full terms of use for more info.
What tools do I need for cooking burgers on the griddle?
You only need a few basic griddle accessories to make burgers on the Blackstone, most of which you probably already have in your arsenal. Here are the tools that I recommend:
Griddle spatula
A long-bladed, flexible spatula (sometimes called a "turner") is the best tool for flipping and removing your hamburgers on the griddle.
One of the best things about cooking burgers on the griddle, and the reason why griddle burgers are superior to charcoal grilled burgers in my opinion, is the crust that you get on the meat. You don't want to leave all of the flavor on your griddle, so you'll need a good griddle spatula to be able to scrape underneath the meat and keep the burger's crust in tact.
You can see my favorite griddle spatulas here, and get tips for what to look for to choose the right spatulas for you.
Melting dome
If you're making thick cheeseburgers on the griddle, then a melting dome is helpful to speed up the melting process.
Look for a larger dome so that you can fit up to 4 or 5 burgers underneath it at a time, if needed. You can also use a dome for other types of griddle recipes, or anytime that you want to trap the heat in and create more of an oven or steam effect when cooking on the flat top.
My favorite melting dome here has a built-in vent that you can open to release steam, and it even comes with a wire rack to elevate your food off the griddle while doming it or keeping it warm.
Internal probe thermometer
For thick griddle burgers, you'll probably want to invest in an internal probe thermometer to make sure the hamburgers are done to your likeness. You can also use this type of thermometer to check the internal temperature of other griddle items like chicken breasts or griddle steaks.
This is the instant read internal thermometer that I use and love.
Burger press (optional)
You definitely don't need a weighted press to make awesome hamburgers on the Blackstone, but it does make the process easier, especially if you're making smash burgers. This is the press that I have and recommend. It's 9 inches long so you can use it to keep your griddle bacon from curling up, and the larger size means that you can weight down two smaller items at the same time.
If you don't have a weighted burger press, you can still make awesome smash burgers with a technique that I used for about a year, before I invested in a press. Just use two spatulas in an "x" shape like this to apply pressure to your beef balls to smash them on the griddle:
What is the best beef for a griddle burger?
I recommend using 80/20 ground chuck for the best Blackstone burgers. Any leaner and your hamburgers may tend to get a bit dry. A fattier beef (like 75/25) may result in your burgers being too greasy since there is nowhere for the excess fat to go… not like grilled burgers where the fat can drip through the grill grates.
If you want to get fancy, you can grind your own chuck roast for fresh ground chuck, but the taste difference is barely noticeable compared to ground beef that you purchase from the grocery store, so I say save yourself some time and money.
Tips for Cooking Burgers on the Griddle
Here are some of my best tried and true tips for cooking the best griddle burgers on your flat top grill:
Mise en place, or prepare your ingredients in advance.
Griddle cooking goes very quickly, and if you're a newbie to flat top cooking, then it may catch you off guard. That's why it's important to "mise en place" (French for preparing and organizing your ingredients in advance).
Before you put your hamburgers on the griddle, make sure that your other ingredients are standing by at the ready including:
cheese packages are open and ready to go
burger seasoning is nearby
buns are opened and ready to toast on the griddle
any other toppings that will be cooked (like onions or mushrooms) are sliced and ready
Use a measuring cup to portion out your beef.
This is one of my favorite tips for cooking burgers on the Blackstone. To ensure that all of your burger patties are evenly sized and cook at the same time on the griddle, portion out the raw ground beef in a measuring cup.
For larger burgers, loosely pack the ground beef in a 1/2 cup measuring cup. For the perfect smash burger size, use a 1/3 cup measuring cup like this, then roll the beef into a ball:
Get the right griddle temp for burgers.
Make sure that you preheat your flat top grill or griddle before starting to cook your burgers. A good griddle temp for burgers is about 375 – 450 degrees F. I've found that in this temperature range, your burgers will develop a nice seared crust.
You can use an infrared thermometer like the one pictured below to make sure your griddle is dialed in to the correct temperature. Or, if you don't have this type of thermometer, then I recommend preheating your griddle on medium low for about 10-15 minutes, depending on what type of griddle you have.
Be aware of your hot spots.
Most traditional rolled steel outdoor griddles have a fairly large temperature variance between different areas or "zones" on the griddle. For instance, my Blackstone griddle runs about 100 degrees hotter in the center of the griddle surface compared to the outer edges of the top.
Can you still cook awesome burgers on the Blackstone? Absolutely!
But it helps to be aware of where your hot spots and cooler zones are before you begin cooking. In most cases, you want to cook your burgers on the hottest area of your griddle top for the best sear. A good seared burger on a griddle top just has more flavor than a regular charcoal grilled burger.
Choose a good burger seasoning.
Don't forget to season your meat, whether you use a good blend of salt, pepper, and garlic powder, or you try my favorite burger seasoning that was designed for and tested on the griddle.
For smash burgers, I prefer to season the meat after it has been smashed on the griddle like this:
But for thick griddle burgers, I season the meat liberally with my Smash That Burger Seasoning before I put it on the griddle.
Watch out for splattering grease.
The flat, solid griddle surface means that the fat from the ground beef doesn't have anywhere to escape to as your burgers are cooking. So often times, especially with thinner burger patties, the grease splatters upward off of the griddle. Here's a perfect example of all of the grease splatters you may experience when cooking griddle hamburgers:
All of those little specs and lines in the photo above are actually grease that is splattering up off the griddle, and it is HOT! That's when a longer handled spatula comes in handy!
Don't forget about the bun.
The bun is one of the most important parts of a perfect griddle burger, besides of course the hamburger patty itself. A hard, dry bun can take an A+ hamburger and turn it into something that you would feed your dog. Okay, maybe I'm being a bit dramatic… but the perfect bun is crucial.
We personally use and recommend a good-quality brioche hamburger bun… and we also suggest that you toast it on the griddle while your burgers are cooking.
There's a few reasons for this:
When you toast your hamburger buns, the butter in the bread warms and softens, giving you a soft and pillowy texture.
The toasted cut sides of the buns help to absorb some of the grease from your burgers so the buns don't get soggy.
Clean the griddle immediately after cooking Blackstone burgers.
Cleaning a griddle is easier to do while the griddle is warm, because the fats are liquified and not yet dried to the griddle surface. That's why I always recommend to "clean as you go" (during the cooking process) and to not put off cleaning your Blackstone until the following day.
In most cases, cleaning your Blackstone after making burgers can be done in a few simple steps:
Use your bench scraper to scrape the fond (food debris) and the excess grease into the grease trap.
While the griddle is warm, use your squirt bottle to squirt some water on to the griddle surface if needed. This creates steam which helps to release any stuck on bits. Then scrape the excess water and food debris into the grease trap.
Use a paper towel to wipe up any excess moisture from the griddle top.
8 Griddle Burger Recipes to Try on the Blackstone
Now that you've gotten a few good tips for cooking griddle burgers, here are some awesome Blackstone burger recipes to try on your flat top grill:
Smash Burgers
The most popular griddle burger by far, and for good reason! A properly cooked smash burger on the griddle can't be beat… trust me, I recently did a head-to-head competition between the classic griddle burger vs. a charcoal grilled, flame-kissed burger.
Get all of my best tips and an easy (seriously, like 5 minutes!) smash burger recipe here!
Juicy Lucy Burgers
A "Juicy Lucy" is basically just a hamburger with the cheese on the inside instead of on top. Think of it as a cheese-stuffed hamburger patty. Easy to make and a fantastic burger recipe to try on the flat top grill. Print out my easy Juicy Lucy cheese stuffed burger recipe here.
Onion Burgers
Whether you call them onion burgers or Oklahoma Onion Burgers, these easy griddle burgers are fantastic! Thinly sliced onions get smashed into the hamburger patties as they cook for extra flavor! Think of this popular griddle burger recipe as a smash burger with onions.
See how to make these Oklahoma Onion Burgers and print the recipe here!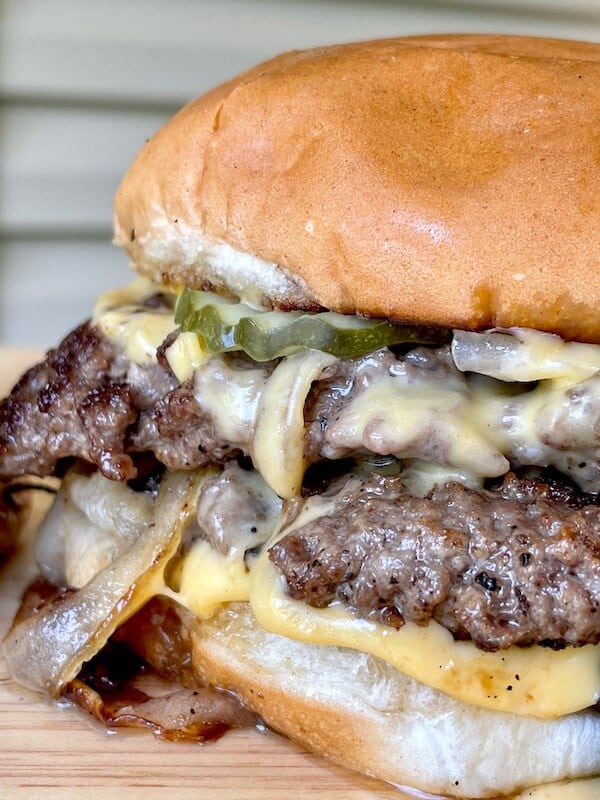 Breakfast Burgers
Who says you can't have burgers for breakfast?! This breakfast burger recipe combines two of the most notorious griddle food groups (burgers and breakfast) into one epic burger! No wonder some people call this the "hangover burger":
Pub Burgers
If you're in the mood for a thick griddle burger, and you have a bit more time to spend cooking, then try these fantastic pub burgers with pretzel buns and homemade beer cheese! The saltiness of the pretzel bun and the robust flavors of the beer cheese make this thick Blackstone burger a winner!
And BONUS, you can use the leftover beer cheese as a dip for chips, carrots and celery, or pretzel bites!
Chicken Smash Burgers
Need a break from all the beef? Try these chicken smash burgers with pepper jack cheese! A great choice if you're looking for a leaner meat option:
Western Burger
If you're a fan of barbecue sauce and bacon (who isn't?!) then try this griddle Western burger with homemade fried onion strings. The crispy onions add a nice texture contrast to the beef, but this Western-style burger is also fantastic with regular caramelized onions.
Reuben Burger
This Reuben Burger on the Blackstone is fantastic… and fantastically simple! In fact, besides the classic smash burger, this griddle burger recipe was probably one of the easiest hamburgers that we've ever made on the flat top grill. And filming the entire YouTube video for this easy flat top grill burger took less than 15 minutes, and that includes pausing while I stumbled over my words (If you know, you know!).
Watch the full YouTube video for how to make this Reuben Burger here!
What are your favorite griddle burger recipes? Or do you have any tips for cooking burgers on the griddle? Leave me a comment down below!
And happy griddling!