These Blackstone smash burgers are some of the best griddle burgers that you'll ever taste! Learn how to make the perfect griddle smash burgers with this easy, no-fail recipe!
If you've just recently bought a new Blackstone griddle, then I would venture to guess that one of the top questions you have, besides how to season your griddle, is how to make smash burgers on the Blackstone. Or maybe you're wondering what all the hype is about because you couldn't imagine smashing your burger meat down flat when so many people say that you never want to press down on your burgers when they're on the grill.
Well, you're in the right place!
First of all, YES smash burgers on the griddle ARE worth the hype! In fact, my wife refuses to eat a regular, thick grilled hamburger, but she will put away two smashburgers by herself.
And second, I'm going to teach you everything that I know about how to make Blackstone smash burgers, or how to cook smash burgers on any griddle or flat top grill or even in a cast iron skillet.
By the time you're done reading this post, you'll know what temp to cook smash burgers at, why your smash burgers aren't developing a nice crust, what that magical crust is in the first place, and so much more. So grab an ice cold beverage, and let's get to ALL of my secrets to the BEST smash burgers.
*This post contains affiliate links, which means if you click a link and make a purchase, I earn a commission at no additional cost to you. Read my full terms of use for more info.
What is a Smash Burger?
A smash burger is probably one of the most common griddle recipes that people make when they first get a new Blackstone or other flat top grill… and they're probably hooked on these perfectly crusty yet still juicy and greasy burgers soon thereafter.
A smash burger is exactly what it sounds like, a ground beef burger that is smashed thin on a hot griddle to cook. The "smashing" typically involves a ball of 80/20 ground beef that is pressed down into an evenly thin patty using a burger press or a spatula.
The magic of this burger is the burger crust, which may appear burnt to some, but when done right is actually the result of a maillard reaction, or "small, simultaneous chemical reactions that occur when proteins and sugars in and on your food are transformed by heat, producing new flavors, aromas, and colors".
In other non-science words, it's that browning that you get when you cook certain meats, and it's freaking delicious!
Ingredients for Blackstone Smash Burgers
What you add to your smash burger is completely up to you, but if you want to make a more traditional smash burger then you will need:
The Meat
The meat options for making smash burgers are endless… I've made Breakfast Smash Burgers with a blend of ground beef and ground sausage, Chicken Smash Burgers with ground chicken, and Taco Smashburgers with chorizo… But since you're reading this post, I'm going to assume that you want to make the good ol' fashioned traditional smash burger with ground beef.
In my experience, the best and most common griddle smashburgers are made with 80/20 ground chuck. We'll get to how you should prep your ground beef before putting it on the griddle later.
The Cheese
The classic smash burger has American cheese, but you can add any type of sliced cheese that you like. The benefit of using American is that it melts really nicely on top of your griddle burgers.
The Seasonings
The seasonings that you add to your Blackstone smash burgers are up to you, but I love the combination of my favorite Cavendar's All Purpose Greek seasoning and Sure Shot Sid's Original Gunpowder seasoning. Though the Cavendar's is technically a "Greek" seasoning, the flavor is light and I consider it to be more of an all-purpose seasoning. And the Sure Shot Sid's gives a nice charcoal, smoky taste that you sometimes miss by cooking your burgers on the griddle versus the charcoal grill.
The Bold Burger Rub from Pit Boss is another personal favorite for smash burger seasoning.
If you don't have those seasonings, then my next recommendation would be a simple salt, pepper, and garlic powder blend. Or of course, you can substitute your favorite burger seasoning.
The Bun
Use a regular hamburger bun for classic Blackstone smash burgers. And you'll definitely want to toast or steam the buns on the griddle as your burgers cook.
The Extras
The smash burger toppings that you use are completely up to you, but these juicy burgers are so good that they don't even need any toppings. As I'm writing this post, my youngest daughter just downed a whole smash burger herself without her must-have ketchup and pickle condiments.
They're that good.
But if you want to add some good mayonnaise, yellow mustard, and dill pickles, go for it.
My Favorite Blackstone Griddle Accessories for Smash Burgers
You don't need a lot of fancy gadgets to make the best Blackstone smash burgers. In fact, I've made TONS of amazing smash burgers using just two spatulas and the griddle. But there are a few things that make smashing the beef and flipping the burgers a bit easier.
After trying loads of different Blackstone griddle accessories, these are my absolute favorite tools for making smash burgers on the griddle:
Parchment Paper Rounds
For years I used a regular roll of parchment paper, but then I discovered these pre-cut parchment circles that are perfectly sized for my 1/3 cup burger balls! And they're a great value too, because you can re-use one circle to make about 6-8 smash burgers at a time.
Meat Press
A good meat press like this one that I use really helps to smash the burgers so that they are evenly thin and flat. I personally prefer the presses that are flat across the bottom, but you can also get one with ridges similar to a panini press.
And your weighted press isn't just for burgers… You can also place a press on top of your bacon as it's cooking so that it lays flat, or use it to make these awesome barbecue smashed potato skins like I did in the picture above.
Third Cup Measuring Cup
You don't need a food scale to measure out the perfect size burger ball… just use a 1/3 cup measuring cup. After lots of trial and error, I've determined that the ground beef that you pack into a third cup is the perfect amount for one smash burger patty.
Good Griddle Spatula
It'd be really difficult to make smash burgers without a great spatula. The spatula (and a little bit of elbow grease) is what you'll use to scrape the burger crust off the griddle when you're ready to flip it.
You can check out some of my favorite griddle spatulas here!
How to Make Smash Burgers on the Blackstone Griddle
Smash burgers cook super quickly on the griddle, so the biggest tip that I have is to make sure all of your prep work is done before you start cooking… After the burgers are smashed on the griddle top, you definitely won't have time to fight with the wrappers on your American cheese slices or run to the kitchen for your condiments.
Here's how to make these easy and fast smash burgers on the griddle:
Step 1: Preheat your Blackstone griddle.
If you've ever watched any of my YouTube videos, then you know that I always recommend preheating your griddle on low.
The Blackstone griddle, like most other flat top grills, can get very hot even on the low heat setting. In fact, all three of my outdoor griddles can reach temperatures above 425 degrees with the knobs turned on low. That's because the flames underneath the griddle top are always on if the griddle is turned on, and the steel top is constantly building heat… That's different than how your electric stovetop works, with the burners turning on and off automatically to maintain a more consistent temperature.
Just turn your griddle on and allow the heat to build up as you're portioning out your beef into balls. The griddle temp should be right around 425 degrees when you start cooking your smash burgers.
Step 2: Make balls of ground beef for your griddle smash burgers.
The easiest way that I have found to portion out my ground beef is to use a 1/3 cup measuring cup. Simply add the 80/20 ground beef to the measuring cup so that it is fairly flat across the top. You want your burger balls to be loosely packed (but not too loosely packed), so don't press down on the beef too much as you're filling the cup.
It should look something like this:
Then, turn the 1/3 cup of beef out into your hands and roll it into a ball. I recommend that you make two burger balls for each smash burger, which results in a double burger that is roughly 1/3 pound. Your portioned burger balls should look something like this before they go on the griddle:
Step 3: Place the ground beef balls on the griddle and smash.
Next, place the burger balls on the griddle spaced out enough so that you have plenty of room to smash and flip the burgers.
Make sure to place the balls of meat on the hotter zone of your griddle as well. Most flat top grills have areas of the surface that are hotter or cooler, so use those to your advantage. On my 36″ Blackstone griddle, the center portion of the griddle stays the hottest and the top, bottom, and sides are a bit cooler. So I placed my burger balls right in the center of the griddle to get the best crust.
Once you set the burger balls on the griddle, place a piece of parchment paper on top of the first ball, and use your press to smash it down into the griddle (so the parchment paper is between the burger ball and the press to help prevent sticking).
You need to work pretty quickly. Smash each burger ball within about 5 seconds of it touching the griddle surface. But don't just smash down the meat and move on to the next one…
There's a bit of an art to getting the perfect smash burger.
You need to press down in an even motion to ensure that your griddle burger is evenly flat all the way across. Then, once the burger is properly smashed, continue to apply pressure with the burger press for about 10 seconds. This technique should give you a fantastic maillard reaction, or a really nice browning color.
But remember to work quickly so that your burgers don't overcook and dry out, which can happen in a hurry. Don't be so focused on getting the smashing technique right that it takes you 45 seconds to smash each patty. The entire smashing and holding process shouldn't last longer than about 15-20 seconds for each burger.
CHEF'S TIP – Since these burgers cook so quickly, I recommend that you only put 2-4 burger balls down on the griddle at the same time. If you were to try and cook 8 or 10 smash burgers at once, by the time that you smash all of the burgers down and you're ready to flip them, half of your burgers will probably be overcooked.
Immediately after you've smashed the patties, add your burger seasoning of choice to the top side. Since smash burgers are so thin, I prefer to only season one side of each patty.
Here's what your smash burgers should look like at this point:
Notice how there's still a good amount of pink color on the top side of the patty? This smash burger is almost ready to flip!
Step 4: Flip the smash burgers to the second side and top with cheese.
Once the smash burger is cooked about half way through (you should still see a decent amount of pink on the top), then it's time to flip.
You'll need to use your spatula to really work under the burger crust to release it from the griddle. And it will probably take a few slightly aggressive sliding motions with your spatula to get your burger "unstuck". I find it easiest to hold my spatula at a slight angle to the griddle surface and use the long side to dig under the crust.
It's kind of difficult to explain the exact technique, but it's similar to how I used the spatula to flip the hash browns in the photo above. And you can always head over to my YouTube channel to watch me make a bunch of different smash burgers.
Here's what your burgers should look like after flipping them to the second side:
*Notice the hamburger buns toasting on the griddle? Before your burgers are ready to flip, you can place the burger buns cut side down in some of the residual grease on the griddle surface and toast the buns. Greasy, toasted buns… HIGHLY recommended!
Once you've flipped your Blackstone smash burgers, immediately add one slice of American cheese to each patty. If you wait too long to add the cheese, then your burger will overcook before the cheese has a chance to melt.
When the cheese is melted, and your burgers look something like this, you're ready to move on to the next step: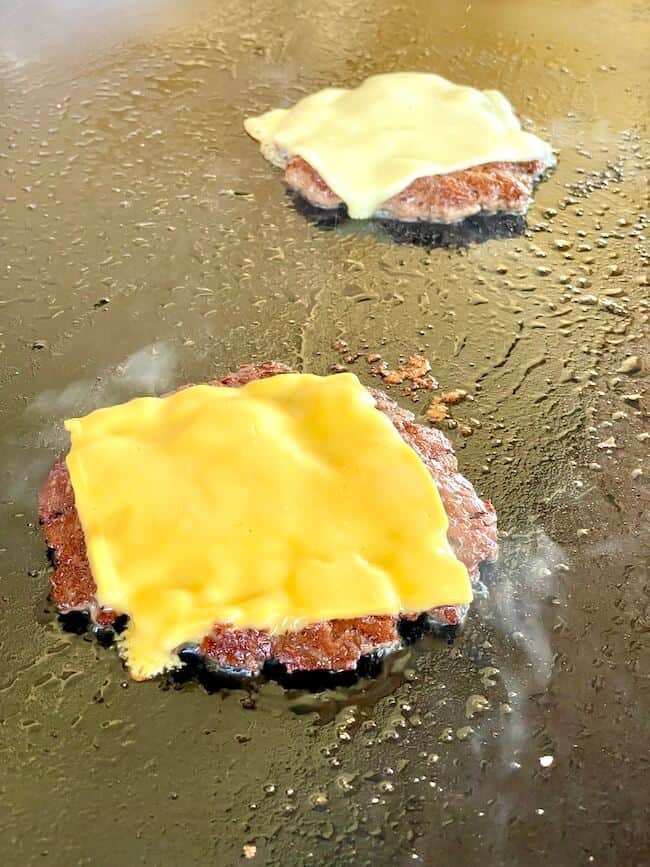 Step 5: Stack two smash burger patties and remove from the Blackstone griddle.
Since Blackstone smash burgers are, well, smashed thin, they're typically served with two patties stacked together. So if your burger balls are roughly 3 ounces each, then you'll end up with a burger that's slightly less than 1/3 pound.
Just use your spatula to stack the first patty on top of the bottom toasted bun. Then, slide the second patty on top like this to make your smashburger:
Then, just top your griddle smash burgers with whatever toppings that you like, and serve them pretty quickly while they're still warm. Trust me, nothing beats a smash burger that's fresh off the griddle!
And here's the finished griddle smash burger in all her glory:
FAQ's about Making Blackstone Smash Burgers
Smash burgers really are an easy and delicious meal to make on the griddle. And I've found over the years that practice makes perfect when it comes to these griddle burgers. Here are some of the frequently asked questions that I get about making the best Blackstone smash burgers:
What griddle temp for smash burgers?
The griddle temp should be searing hot, or around 425 degrees F. If your griddle is not hot enough, you won't get a nice evenly colored burger crust and the meat will take longer to cook, making your burger more dry.
What type of beef should I use for smash burgers?
In my experience, the best Blackstone smash burgers are made with 80/20 ground beef. Any leaner and your burgers won't be near as juicy, any fattier and they'll be too greasy. I always buy 80/20 ground chuck for my smash burgers.
How many ounces should my Blackstone smash burgers be?
The perfect smash burger is just large enough to fit perfectly on your hamburger buns after its smashed down. I find that 3 – 3.5 ounce burger balls are perfectly sized for making smash burgers.
If you don't have a kitchen scale, no worries! Here are some tips for making sure that your smash burger balls are properly portioned:
If you buy a 1 pound package of ground beef, portion it out into 5 equally sized balls. This would give you about 3.2 ounce balls which is perfect for smash burgers.
Use a 1/3 cup measuring cup to portion out your beef. My preferred method that I mentioned above!
Portion out your burger balls so that they are a bit larger than a golf ball.
I love cooked onions… What is the best way to add onions to my smash burger?
If you're an onion lover, then you've got to try this amazing Oklahoma Onion Burger!
You smash the beef right in to the thinly sliced onions on the griddle, and the onions get nice and caramelized in the beef fat… a truly fantastic griddle burger!
Do I need a burger press to make smash burgers?
Nope! In fact, I didn't even own a press for the first full year that I had my griddle. I just used this method of pressing the burger balls down with two spatulas in an "X" shape like this:
I'm more of a visual learner… Got any smash burger videos?
I'm glad you asked! I've got a TON of smash burger videos on my YouTube channel, and I HIGHLY recommend that you watch a few of them before attempting to make your own burgers. The process is very easy, but it can go wrong in a hurry (just ask my wife who can't cook worth a lick but decided she wanted to attempt smash burgers on the Blackstone).
These videos will give you an idea of how long the meat needs to stay on the griddle before flipping to the second side, and you can get a view of the actual burger smashing technique that I use:
And of course, if you have any additional questions about making smash burgers, feel free to leave me a comment down below!
Blackstone Smash Burgers Recipe
You probably don't need an actual recipe to make smash burgers, since there are so few ingredients and it's pretty much just smashing a few burger balls on the griddle. But just in case you like to print out your Blackstone griddle recipes, here you go:
Smash Burgers on the Griddle
2 smash burgers, double stacked
Learn how to make the best smash burgers on the Blackstone griddle or any other flat top grill. With just a few basic ingredients and a few minutes of your time, you can make these easy griddle smash burgers!
Equipment
burger press

parchment paper

spatula
Ingredients
12-14 oz 80/20 ground beef chuck
burger seasoning of your choice or substitute salt and pepper
4 slices American cheese
2 hamburger buns
burger toppings of your choice such as mayonnaise, yellow mustard, dill pickles, tomato slices, etc.
Instructions
Preheat griddle on low until it reaches a temperature of about 425 to 450 degrees F.

While griddle is heating up, prep all of your other ingredients – unwrap American cheese slices (if using the wrapped version), make sure your seasoning is nearby, and prepare your condiments.

To prep the burger balls, divide beef into 4 equal portions. Roll each portion in the palms of your hands to form a ball.

When griddle is hot, place the balls of beef down on the hot zone of the griddle, making sure to leave enough space in between each to smash and flip.

Place a piece of parchment paper over the first ball, and use your burger press or a stiff spatula to press down until the burger patty is evenly thin and flat. Once the burger is smashed, apply pressure using the press or spatula for about 10 seconds. Repeat the process until all 4 burgers are smashed.

Season the top side of each patty with your favorite burger seasoning.

Dab the cut sides of the hamburger buns in the residual grease on the griddle, and toast the buns while the burgers continue to cook. When buns are done toasting, remove them from the griddle. Prepare the buns with the prepped condiments so they are ready when the burgers are done.

When burgers are a bit more than halfway cooked through (and there are still some pink spots on top), use a spatula or scraper to flip the burgers to the second side, making sure to scrape under the burger crust to remove it from the griddle with your burgers.

Immediately after flipping the burger patties, top each with one slice of American cheese.

When the cheese is melted (probably less than 1 minute), stack two burger patties on top of each other to make two double smash burgers. Immediately remove from the griddle and transfer the smash burgers to the prepared buns. Serve warm.
Notes
A 1/3 cup measuring cup is a great tool to use to portion out your balls of beef.  Pack the ground beef into the measuring cup – not too tightly or too loosely packed.  Then turn the beef out into your hand and roll it into a ball shape.  Each ball should be about 3 – 3.5 ounces in weight.
Reader Interactions