One of the most popular questions that I get from people that are in the market for flat top grills is what is the best outdoor griddle? Should I get a Blackstone, a Pit Boss, a Camp Chef, or a completely different flat top grill?
And while I can't tell you which griddle to buy… I can share my experiences and what I like and don't like about each one, since I own all three of the most popular outdoor gas griddle brands.
So if you're looking for griddle reviews because you're about to spend your hard-earned money to buy a flat top grill, then this post is for you!
This epic outdoor gas griddle review may be long, but I tried to include absolutely everything that I have learned from being a griddle owner and user for the last several years. From pros and cons of the Blackstone, Camp Chef, and Pit Boss to specific things that should NOT sway your buying decisions, I hope this ultimate griddle guide helps you select the best outdoor griddle for your personal needs!
Outdoor Gas Griddle vs. Regular Grill
First off, if you've already got a fancy charcoal grill or regular gas grill sitting on your back deck, then why would you want to buy an outdoor griddle? Maybe your wife is asking you the same question, eh?
The answer can be summed up in one word… Versatility!
Having an outdoor griddle is like having a full outdoor kitchen. Rather than only being able to cook certain foods like steaks, burgers, or veggie kabobs like you would on a traditional grill, you can cook pretty much anything on an outdoor griddle.
In fact, I often tell people, if you can cook it inside on your stovetop, then you can cook it outside on your gas griddle. Just think of your Blackstone, Pit Boss, or Camp Chef as a giant skillet.
Hibachi chicken teriyaki with fried rice… check!
Pancakes… check!
Cheesesteak sandwiches… check!
Smash burgers… check!
Try making those foods on your charcoal grill… Yes, it can be done by setting a cast iron griddle on top of your grill grates, but trust me when I say, that cooking setup doesn't come close to comparing to the ease and flat-out fun of cooking on an outdoor gas griddle.
Why should you get a gas griddle?
Besides the versatility that you get with cooking on a gas griddle, here are some of the other reasons why I LOVE having a griddle (or in my case, 3 different gas griddles!):
It keeps the kitchen clean. If you're making a large meal with meat and three sides, you can cook it all on the griddle at the same time. So instead of having to dirty up 3 or 4 pots or pans inside the kitchen, you just use your griddle.
A flat top grill is incredibly versatile. You can cook pretty much anything on a griddle, from pancakes to steaks. In fact, most foods that you cook on your stovetop inside can be cooked outside on a flat top grill… even if you have to set a pot or saucepan on top of the griddle surface for sauces or more liquid ingredients.
It's a great way to spend quality time with the family. One of our family's favorite things to do on a summer evening is to fire up the griddle and sit on the back porch enjoying each other's company… and my kids love it, too! They say it's like dinner and a show.
You can feed a large number of people with a gas griddle. If you have a 4 burner or larger griddle, then you can produce a large quantity of food at once… whether it's making 10 smash burgers or a bunch of chicken fried rice.
What Makes My Outdoor Gas Griddle Review Different than the Rest
Before I discuss the best outdoor gas griddles, in my opinion, I want to highlight the fact that I own and regularly use ALL of the flat top grills mentioned in this post… the Blackstone Air Fryer Combo, the Camp Chef Flat Top Grill 600, and the Pit Boss 3 Burner Ultimate Griddle. I've owned the Camp Chef the longest, and you can check out my full review of the model I have here: Camp Chef Flat Top Grill Review
*This post contains affiliate links, which means if you click a link and make a purchase, I earn a commission at no additional cost to you. Read my full disclosure for more info.
When you're looking up gas griddle reviews, be sure to pay attention to which review sites are speaking in general terms and just re-wording information that can be found in the product manual, and which have actually had hands-on experience with the griddles that they're recommending.
Many of the outdoor griddle reviews out there just compare the features and specs of each model, which you can do yourself with a few Google searches… And it shows in their recommendations. While everyone has a different opinion on the best outdoor griddle to buy, think twice before purchasing one that's recommended by someone who has never actually used the number one griddle on their list.
Okay, rant over… now on to things you need to look for when choosing the best outdoor griddle for you.
Things to Consider When Choosing an Outdoor Gas Griddle
To help guide your buying decisions, I've brainstormed a list of things that you need to consider before pushing that "Buy" button. What you're looking for in an outdoor griddle may be completely different than what I'm looking for, so when reading these griddle reviews, it's best to have your own list of priorities.
Here's what you need to think about before purchasing a flat top grill:
Griddle Size and Number of Burners
The size of griddle that you want could help you narrow down your choices right from the beginning, because not all of the outdoor griddle manufacturers offer the same size choices.
For instance, Camp Chef only offers a 4 burner or 6 burner option, so if you're wanting to buy a 3 burner outdoor griddle, then you'd have to look at other brands.
Having cooked on both the 3 burner and 4 burner griddles, I would absolutely recommend going with a 4 burner gas griddle. You may think that you don't need the extra space if you've only got three or four people in your family, but having the extra burner and the additional griddle surface space allows you more flexibility in what you cook.
For instance, I often make entire dinners with meat and three sides, and it's helpful to be able to transfer food to a cooler side of the griddle as it finishes cooking. In fact, I often use this wire cooling rack to keep food warm while I'm still cooking… Like putting bacon on your wire cooling rack while you cook your eggs.
Not to mention, if you're making dinners that have a larger volume of ingredients like Hibachi Chicken Teriyaki for instance, you'll appreciate having the extra space.
Having a larger griddle just gives you more options. For me and my family of 4, the 4 burner outdoor griddles are perfectly sized… Plenty of cooking space without taking up too much floor space on my back deck.
Griddle Surface Material
The next buying factor to consider as you're looking at which flat top grill to buy is the material of the actual griddle surface.
You have two main options when it comes to outdoor griddle surfaces, either rolled steel or non-stick ceramic coating. Let's talk about the pros and cons of each:
Rolled Steel Gas Griddles
The majority of griddles, including the Blackstone and Camp Chef flat tops, have a rolled steel surface. If you're not familiar with cooking on rolled steel, it's similar to cooking with cast iron skillets in your kitchen.
Like regular cast iron, the rolled steel griddles will need to be seasoned frequently, and you'll need to protect the surface with a thin coat of oil after each use.
But, although they require more maintenance, they should outlive you… just like your great great grandma's cast iron skillet that's pushed in the back of your kitchen cabinet. That's because you can build up the seasoning of the griddle as many times as needed… or you even have the option of stripping all of the seasoning away and starting with fresh seasoning as well, though you will probably never have to do that.
Non-stick Ceramic Coated Griddles
If you're looking for a ceramic coated outdoor griddle, then you only have one option right now, because the technology is so new. Currently, the
Pit Boss Ultimate Lift-Off Griddle
is the only ceramic coated gas griddle available on the market.
But although your buying choices are numbered, the ceramic coated griddles are a great option if you're looking for a flat top grill that's easy to clean and maintain. Most of the time when you cook on a ceramic coated griddle, you'll just need to wipe it down with a paper towel afterwards to clean it. And you don't have to go through the process of seasoning it periodically either.
However, since the ceramic coated griddles haven't been around nearly as long, the longevity is still in question. How long the ceramic coating will last after frequent use remains to be seen. But, if you're worried about that, there are some work-arounds available that can help to prolong the life of the griddle. You can use silicone or wood cooking utensils on these griddles, or you can even purchase a replacement non-stick ceramic coated griddle top, without having to buy a whole new griddle system.
Hood or No Hood
This is another important factor to consider when picking out the best outdoor griddle for you.
When I bought my Camp Chef flat top grill, I didn't even consider how often or for what reasons I might use a hood. So for the first 18 months of using a flat top grill, I didn't have a hood, and I didn't know how useful it could actually be. But then once I got my Pit Boss Ultimate Griddle that includes a hood that can be pulled down over the griddle surface while cooking, it was a game changer.
Think of a hood as a giant melting dome. If you're making a bunch of smash burgers or cheesesteaks and you want to melt the cheese, then having a hood can make it much easier.
Also, a hood mimics the oven effect, which allows you to cook certain foods on the griddle that you might not otherwise be able to make. For instance, I cooked canned biscuits on my Pit Boss Ultimate Griddle recently by placing the biscuit dough on top of a wire cooling rack over the heated griddle surface and then closing the hood. The heat gets trapped in, creating an oven effect which cooks the biscuits to a perfect golden brown.
If the hooded options aren't in your budget, however, you can create a similar cooking environment with a good melting dome.
When I first got my Camp Chef flat top grill (that doesn't come with a hood), I purchased a melting dome and wire cooling rack combo that I HIGHLY recommend. You can see my other must-have flat top grill accessories here.
Portability
If you plan to take your outdoor griddle on the go, like when you go tailgating during football season or when you take the family camping for the weekend, then you'll want to look for a griddle that's portable.
Not every flat top grill on the market can be easily transported from your back deck to a campsite, so pay attention to whether or not a griddle has a lift-off feature or how easy it is to pack up for off-site cooking, if that's important to you.
Of the three outdoor griddles that I have, only one has an easy on-the-go option… the Pit Boss Ultimate Griddle. It has an easy to use latching system that allows you to quickly lift off the entire top part of the unit (though you'll need two people for this because it's pretty heavy). And while it is more expensive than some other options, the portability feature saves you from having to purchase two different griddles, one for your back porch at home and one for taking with you on the go.
Your Budget for an Outdoor Griddle
Speaking of cost, your budget for an outdoor gas griddle is another important factor to consider when selecting the best flat top grill for you.
The Blackstone griddles are known for being some of the most inexpensive griddles on the market, so if you don't have a lot of money to spend or you want to "get your feet wet" in the griddle game before making a big investment, then the Blackstone may be the right choice for you.
Just for price comparison purposes, the cost of a basic non-hooded, four burner outdoor griddle from different manufacturers is:
Blackstone – $379
Pit Boss Deluxe 4 Burner Griddle – $489
Camp Chef Flat Top Grill 600 – $549
*Note – All prices taken from the manufacturer's websites in early 2022. You may be able to find these outdoor griddles for cheaper at stores like Camping World or Amazon.
Grease Management System
This factor comes down to personal preference.
I personally prefer having the grease trap in the front of the griddle (closest to me) because that's what I was used to for years… I cooked on commercial grade griddles everyday for 4 years while I was in the US Navy, and the commercial griddles that we used had grease management systems in the front.
I also find it easier to "pull" the grease and food debris towards me rather than having to "push" it away from me, as I have to do with the rear grease trap on the Blackstone griddle.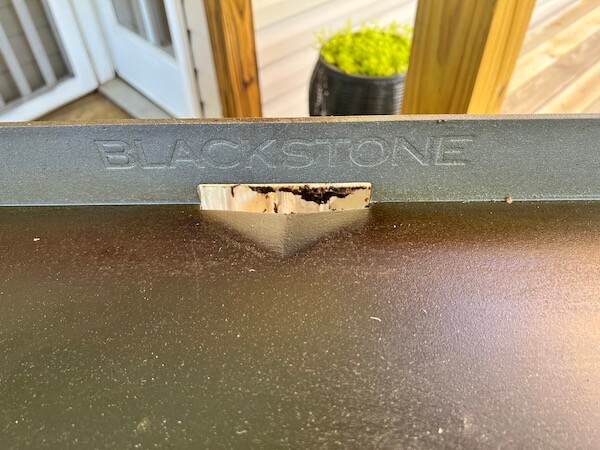 In addition to the placement of the grease trap (front or rear), you should also consider the size and shape of the hole for the grease to funnel into and the overall design of the grease trap.
My Camp Chef Flat Top Grill 600 has a grease "trough" that runs the entire length of the griddle surface (which I LOVE), but then the grease gets funneled into a very small hole about the diameter of a large milkshake straw. The small hole can get clogged with food debris, which may be difficult for flat top grill beginners.
On the other hand, the Pit Boss Ultimate Griddle has a larger hole that easily fits food debris… Remember, when you're using a flat top grill, you'll probably be scraping up stuck-on food bits in addition to oil and grease, so the larger hole makes that easier.
All three outdoor griddles, the Blackstone, the Camp Chef, and the Pit Boss, have grease traps that are easy to remove and replace for cleaning. And from my experience, all 3 grease traps are equally easy to clean because they all have a non-stick coating.
So the main thing to decide here is whether you want an outdoor griddle with the grease trap in the front or the back.
Pre-seasoned vs. Season Yourself
One of the main reasons why I chose to buy my Camp Chef Flat Top Grill 600 was because it came pre-seasoned. As a residential griddle beginner, the thought of having to go through the entire seasoning process was a little daunting, so I chose the Camp Chef because it came pre-seasoned.
The pre-seasoned feature is nice, but after seasoning a few different Blackstone griddles now and doing countless "maintenance seasonings" on my Camp Chef, seasoning a griddle is actually pretty easy.
If you're concerned about the seasoning, cleaning, and maintenance required for traditional rolled steel griddles, you can opt for the ceramic coated griddle from Pit Boss, or you can also check out some of my griddle maintenance and cleaning videos on YouTube!
Or check out some of my other blogs posts that are great for flat top grill beginners:
Extra Features that You Want
Lastly, when picking the best outdoor gas griddle for you, consider what "extra" features you want.
If you want additional cooking options built-in to your flat top grill unit, then your best bet is probably going to be Blackstone because it offers a large selection of griddle combos with things like air fryers, deep fryers, and traditional gas stove burners attached… if that's important to you.
I will say that I've only used the air fryers on my Blackstone 36" Griddle/Air Fryer Combo ONCE, so think hard about whether spending the extra money for a bundled product like that will be worth it in the long run. That being said, if I only had my Blackstone and I didn't have the other griddle options available to me, I would probably find ways to use the air fryers more frequently… like for cooking tater tots or french fries to go with my smash burgers.
Additional "extras" could include things like:
Bottle opener
Paper towel holder
Trash bag holder
Utensil hooks
Shelves
Personally, I think that all of these "extras" are insignificant in the overall decision making process, but they could be important to you.
One Thing that Shouldn't Matter When Picking the Best Outdoor Griddle
So now that we've discussed things to look for when buying a gas griddle or flat top grill, don't get distracted by the HUGE product lines of griddle accessories that some manufacturers offer.
It's easy to go to the store and see that Blackstone offers a TON of different accessories, from taco stand holders to burger presses… but don't let that influence your decision on which gas griddle to buy.
*You can check out my absolute TOP Flat Top Grill Must-Have Accessories here!
In fact, you can use Blackstone griddle accessories for non-Blackstone branded griddles as well. I actually have a Blackstone hard grill cover for my Camp Chef and it works just fine (and I recommend it, since Camp Chef doesn't offer their own hard cover). So feel free to mix and match brands when it comes to buying your accessories.
In addition, I have tried a TON of griddle spatulas (and I have a whole review video on the best griddle spatulas on my YouTube channel here), and NONE of the griddle spatulas from Blackstone, Camp Chef, or Pit Boss "made the cut" in my opinion.
Bottom line… don't select which flat top grill to buy based on which brand offers the biggest and baddest accessory line, because you might not like the actual accessories once you start using them anyway.
The 3 Outdoor Griddles I Own – My Pros and Cons of Each Gas Griddle
Camp Chef Flat Top Grill 600
The Camp Chef Flat Top Grill 600 was the very first outdoor griddle that I ever owned. And after doing my own research on the best outdoor griddles, you can see why I chose to buy the Camp Chef here.
Click HERE To check out the Camp Chef Flat Top 600
Here are some of the pros and cons, in my opinion, of the Camp Chef FTG600:
Pros of the Camp Chef Flat Top Grill 600:
LOVE the grease management system – As I mentioned above, I like the grease trap system of the Camp Chef better than any other griddle that I own. I find it very easy to "pull" the grease into the long trough in the front.
Can be used as a traditional gas grill with the included grill grates – This is a feature that's unique to the Camp Chef. You can actually remove the griddle top and use the grill grates below just like you would a regular gas grill… Great for people that don't have both a traditional grill and a griddle. Check out the photo below.
Well-built and durable – I've used my Camp Chef heavily for two years now, and it's held up great! It feels very sturdy and well-built.
Heat plate on bottom of griddle to evenly disperse heat for even cooks – The Camp Chef flat top grill seems to heat up and retain heat evenly.
Cons of the Camp Chef Flat Top Grill:
No Hood Option – This is by far the biggest drawback of my Camp Chef FTG600, and it's one of the main reasons I would choose to cook on one of the other griddles available to me on my back deck. However, as I mentioned above, I cooked exclusively on the Camp Chef for about 18 months when I first got into griddling and I didn't have any other options, and it worked fine for me. Kind of like the idea that you don't know what you're missing if you've never had it.
Limited Cover Choices – Camp Chef doesn't offer a hard top cover for their griddles. I prefer the hard top cover to a soft top cover because it's much easier to take on and off to protect the griddle surface. If you choose to buy the Camp Chef, I recommend this Blackstone hard cover to go with it.
Only has two wheels – I move my outdoor griddles around on my deck all the time, so for me, that's a con. My Camp Chef is the most difficult to move of all 3 of my flat top grills.
Pit Boss 3 Burner Ultimate Griddle
The Pit Boss Ultimate Griddle was the second flat top grill to be added to my collection.
I will tell you that Pit Boss sent me this griddle to use and review for free, but that in no way influences this review. I would NEVER recommend something that I would not go out and buy myself, and when I work with brands, I am upfront and honest with them about the fact that I will not mention their product to my audience if don't honestly LOVE it.
Click HERE to check out the Pit Boss 3-Burner Ultimate Lift-Off Griddle
Pros of the Pit Boss 3 Burner Ultimate Griddle:
Easy to clean and maintain – This is probably the #1 pro of the Pit Boss Ultimate Griddle. It doesn't require regular oiling or seasoning as a traditional rolled steel griddle, and most of the time it can be cleaned with just a bit of water and a paper towel.
Can be easily transported for tailgating or camping – The Pit Boss Ultimate Griddle has a lift-off feature that allows for easy transporting and off-site cooking. I'm actually putting the lift-off griddle in the trunk of my wife's SUV in a few weeks to take it to a family reunion.
Solid and well-built – The griddle unit itself feels very solid, sturdy, and well-built. The attention to detail in the design (like the upgraded wheels and propane tank cover shown below) is also a plus.
Included hood – Once you've got a hood on your griddle, you'll never go back.
Griddle surface less prone to rust – Because the griddle surface is ceramic coated, it is much less prone to rust. The coating acts as a protectant, and even if you don't use your flat top grill for an extended period of time, it should be ready to cook on immediately when you go to use it again.
Cons of the Pit Boss Ultimate Griddle:
Food may stick even though it's a non-stick griddle surface – As a user, you may expect that your food will never stick to the griddle, because of the "Proprietary non-stick armored ceramic cooking surface"… However, the fond (or brown bits of food that remain after something is cooked) may stick to the surface, making it slightly difficult to clean, depending on what you are cooking.
For best results use non-metal utensils – Some people prefer to use metal spatulas on their outdoor griddles, but Pit Boss recommends using non-metal utensils on the ceramic coated surface of this griddle. *If you want some good spatula options, check out this YouTube video: The BEST Griddle Spatulas to Buy – My Top 3 Favorites!
You will probably need to do a deep cleaning periodically
Longevity – The griddle hasn't been out long enough with the ceramic coated technology… Most people have a pre-conceived notion of the longevity of the griddle surface, because they've had bad experiences with non-stick cookware in the past.
Blackstone Air Fryer Griddle Combo
I have had the Blackstone Griddle Air Fryer Combo for the shortest period of time, but so far it has performed great as well!
Click HERE to check out the Blackstone Air Fryer Griddle Combo
Here are some of the pros and cons of the Blackstone:
Pros of the Blackstone Air Fryer Combo:
Four wheels with 360 degree rotation for easy moving – The Blackstone griddle is the easiest of my 3 outdoor griddles to move.
Included hood
Warming drawer and air fryer for increased versatility – You can throw fries or frozen foods in the air fryer while you're cooking on the griddle at the same time. Depending on your needs and what types of foods you will be preparing, this could be the all-in-one cooking solution for you.
Cons of the Blackstone Air Fryer Combo:
Grease management system in the back – As I said before, I prefer the grease trap in the front, but that's just personal preference.
You may not use the air fryer as much as you think – I've only used them a handful of times, so decide if it's worth the extra money for you.
The air fryer must be plugged into an electric outlet – This could affect the placement of your griddle on your back deck, or you may not realize that the air fryer does not run on the propane tank like the griddle does.
May not operate as well in windy conditions – This is a fairly common complaint of Blackstone griddle owners, but it's fixable. You can purchase wind deflectors to help block the wind from getting to the flames. I personally haven't had an issue with mine in windier conditions.
Blackstone vs. Camp Chef vs. Pit Boss – Based on the Specs
A list of specifications alone can't help you decide which griddle to buy… You also need to consider the factors that I mentioned above, like whether or not you want a hood or where you prefer to have the grease trap.
But, the manufacturer's specifications are important too, because they can help you compare "apples to apples", so to speak. For this table, I'm comparing the 4 burner griddle models for the Blackstone and Camp Chef, and the 3 Burner Pit Boss Ultimate Griddle (which is comparable in size to the Camp Chef even though it has one less knob).
Here's a look at how three of the most popular griddle brands stack up to each other, based solely on size, weight, BTU's, etc:
| Specification | BLACKSTONE ORIGINAL 36″ GRIDDLE | CAMP CHEF FTG600 | PIT BOSS 3 BURNER ULTIMATE GRIDDLE |
| --- | --- | --- | --- |
| Griddle Cooking Dimensions | 36″ x 21″ | 31.5″ x 19.5″ (20.5″ w/grease trough) | 29.75″ x 18.5″ |
| Griddle Cooking Surface | 756 sq. in. | 604 sq. in. | 647 sq. in. |
| Width (with side shelves up) | 68.3″ | 62.5″ | 62.72″ |
| Height (to top of griddle) | 41.3″ | 37″ | 35″ |
| Overall set up dimensions | 68.3″ L x 27.5″ W x 41.3″ H | 62.5″ L x 22″ W x 37″ H | 63″ L x 29″ x 37″ H |
| Overall weight | 123 lbs | 144 lbs | 142.64 lbs |
| Total output | 60,000 BTUs | 48,000 BTUs | 46,000 BTUs |
| Warranty | 1 year | 1 year | 2 years |
| Other Notable Features | Built-in igniter, rear grease management system | Pre-seasoned, 2-in-1 gas grill and griddle | Lift-off feature for easy portability, ceramic coated surface |
| | | | |
The Best Outdoor Griddle for YOU
In closing, I hope that these outdoor gas griddle reviews have helped you to pick the best gas griddle for YOU!
When people ask me which griddle they should buy, you can see now why it's so hard to give them a straight answer.
I actually think of my different outdoor griddles as my kids… You would never be able to pick a favorite child. Instead, each child has their own strengths and weaknesses, and they each have a different set of characteristics that makes them great. The same goes for outdoor griddles.
You really have to select the features that you want MOST in an outdoor griddle, and then go from there.