These Blackstone Philly Cheesesteaks are as close to authentic as you can possibly get! Learn how to make the best cheesesteaks on the griddle including what meat, cheese, and bread to use for a TRUE Philly!
Whenever I make Philly Cheesesteaks on the griddle, I always get trolled in the comments section of my YouTube channel by native Philadelphians telling me, "That isn't a Philly!". Either I added bell peppers (a cardinal sin according to Philly cheesesteak enthusiasts), or I used the wrong bread, or the seasoning was off.
So I've learned to call my steak sandwiches, like this awesome Italian Cheesesteak or this Leftover Prime Rib Cheesesteak, simply "cheesesteaks" and leave off the "Philly" altogether.
But I was curious about how to make authentic Philly cheesesteaks, so I decided to order some of the iconic griddle sandwiches straight from one of the most famous shops in Philadelphia and have them delivered to my house in East Tennessee… more about how I managed that later.
Because you can't exactly replicate an authentic cheesesteak on the griddle if you've never actually had an authentic Philly Cheesesteak. And both of these awesome cheesesteaks definitely didn't disappoint!
Here's how to make the very best Philly Cheesesteaks on the griddle from start to finish: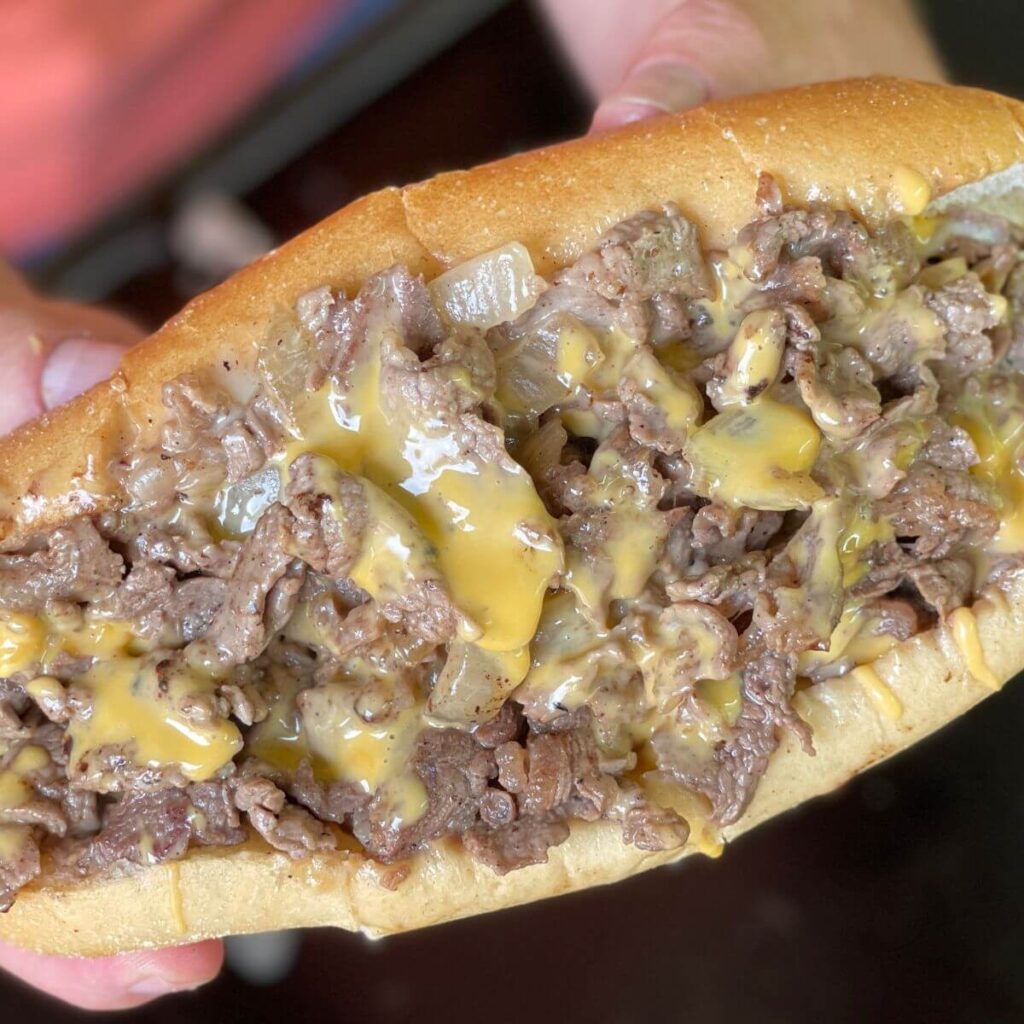 *This post contains affiliate links, which means if you click a link and make a purchase, I earn a commission at no additional cost to you. Read my full terms of use for more info.
What is a Philly Cheesesteak?
A Philly Cheesesteak is arguably the most well-known steak sandwich, originating in Philadelphia, Pennsylvania but loved throughout the US. Served on an Italian hoagie sub-type roll, the steak in the sandwich is thinly sliced and "chopped" on a griddle as it cooks, with or without diced onions.
A typical Philly Cheesesteak includes, of course, some kind of melted cheese. Cheez Whiz is probably the most popular choice, but most cheesesteak shops in Philly also offer American or provolone cheeses.
Who Made the Original Philly Cheesesteak?
This popular griddle sandwich is known as the "Philly Cheesesteak" because it was invented in Philadelphia in 1930 by a hot dog vendor named Pat Olivieri, whose namesake restaurant, Pat's King of Steaks, is still owned and operated by the Olivieri family to this day.
As the story goes, Pat decided to try something different for lunch one day, so he ordered some chopped steak from his local butcher and cooked it on his hot dog griddle. He added the meat to an Italian roll with some diced onions, and his steak sandwich creation caught the eye of one of Pat's hot dog customers, a cab driver who insisted that Pat make him one too.
The rest is history. Pat started selling his steak sandwiches to the masses, and cheese was added as a topping years later.
What Do I Need for an Authentic Philly Cheesesteak?
The classic cheesesteak sandwich only has a few simple ingredients – steak, cheese, and the roll. Here are some ingredient notes for making the best Blackstone cheesesteaks:
What meat to use for Cheesesteak
The best meat to use for cheesesteaks, hands down, is thinly sliced ribeye. After making tons of cheesesteaks on the griddle, I have found that the best sandwich includes ribeye steak that has been sliced to about 1/8″ thick.
You definitely want to stay away from beef cuts that are leaner, because without the extra fat, your meat could dry out as it cooks on the griddle. And you can't beat a cheesesteak sandwich when the fat from the steak soaks into the bread. Remember, fat is flavor!
What cheese to use for Philly Cheesesteaks
If you ask any native Philadelphian what type of cheese to use for a cheesesteak, they'll tell you that "the Whiz" is a must! But to be honest, I find Cheez-Whiz to be quite off-putting and over-powering when slathered on top of my sandwich.
So if you're not a fan of the jarred yellow cheese sauce, then these cheeses are perfectly fine substitutes. In fact, most of the authentic Philly Cheesesteak shops (like Pat's King of Steaks) offer all three of these cheese options:
Cheez Whiz
Provolone cheese
American – – My personal preference for cheesesteak cheese
Or, you can also skip the cheese altogether. The original cheesesteak didn't even have cheese on it, and when cheese was introduced as a sandwich topping in the 1940's, it was provolone cheese that was first served on the classic steak sandwiches, not "the Whiz".
What bread to use for authentic Cheesesteak Sandwiches
If you want to go full authentic, then it's going to cost you! In fact, you may dole out more money for the bread than you do for the actual steak.
If you live outside of Philadelphia and you want an authentic cheese steak sandwich, then you have a few options for procuring the perfect rolls:
Buy the Philly rolls on Amazon – You can get 3 packs of the Amoroso Philly rolls shipped right to your door. The Amoroso brand is said to be the roll used for authentic cheesesteaks.
Try Gordon Food Service – We were able to get a master case of the Amoroso bread at our local GFS store… so now we have a freezer full of 36+ hoagie rolls… good thing that they're absolutely DELICIOUS!
Substitute a different type of sub or "hero" roll – If you want to keep your steak sandwich more affordable, you can use a fresh hoagie roll or sub sandwich style roll from your grocery store's bakery.
What about onions?
If you visit a cheesesteak shop in Philly be prepared to order your steak sandwich "wit" or "wit-out"… That's short for with onions or without onions. So whether you add diced onions to your sandwich is completely up to you, though I do recommend them.
What seasonings to use for Cheesesteaks
As far as what seasoning to use for a cheesesteak, I can confidently say that a great all purpose seasoning makes all the difference in the taste of your finished griddle sandwich. We tried two sandwiches side by side – one with the steak seasoned with salt and pepper, and one using our Shake That All Purpose seasoning. The all purpose seasoning made a HUGE difference and was much more flavorful than regular salt and pepper.
You can get our Shake That All Purpose Seasoning here – it's a fantastic all-around seasoning… Great on hash browns, too!
How to Make Perfect Blackstone Philly Cheesesteaks
An authentic Philly Cheesesteak on the griddle is really easy to make if you follow these simple steps:
Slicing the steak
The perfect Philly Cheesesteak recipe starts with the steak, and it's important to get the sliced meat to the right thickness. Too thick and your steak will pull out of your sandwich when you take a bite and the meat won't be as tender. Too thin and your steak may overcook or have more of a "stringy" texture.
For these Blackstone cheese steak sandwiches, I had the butcher at my local grocery store slice a few ribeyes for me. To make 3 steak sandwiches, I used a total of 24 oz. of ribeye, and the butcher shaved it on the 1/8″ thick slicer setting. The result was perfectly tender ribeye, and I highly recommend the 1/8″ thick slices.
If you're going to slice your own ribeyes, then put the steaks in the freezer for about 30-45 minutes so they can firm up. This will make them much easier to cut into thinner slices because the meat will hold its shape better while you cut. And be sure to cut against the grain always!
Prepping the other ingredients
Griddle cooking moves quickly because the temperatures of most griddles are relatively high, even on the low heat setting. So it's important to have all of your ingredients prepped and ready to go before you begin cooking your steak. This includes:
dice the onions
open the packages of cheese and have the cheese slices out and ready
heat up the Cheez Whiz in a skillet on the griddle (if using)
slice the rolls so they're ready to steam on top of the meat and cheese
have your seasonings nearby
Cooking the cheesesteak on the Blackstone griddle
If you're making your steak sandwich "wit" (with onions), then you'll want to start cooking those on the griddle first. Just add about 1/2 to 1 tablespoon of your favorite cooking oil to the heated griddle surface, based on how many diced onions you are cooking. Add the onions to the oil and season them with salt and pepper or your favorite all purpose seasoning like this:
Sautee the onions until they're tender before adding the ribeye steak to the Blackstone griddle. The onions take much longer to cook than the thin shaved steak, and you definitely don't want to overcook your ribeye. When the onions are done cooking, you can move them to the cooler zones on the griddle while you work on the steak.
Then, add the shaved ribeye to the griddle, and spread it into a thin even layer so that you're ready to start chopping.
Next, you'll need to grab two of your must-have griddle accessories – a bench scraper and a spatula. Using the spatula in one hand, hold on to the ends of one or two of the shaved pieces of steak. With the bench scraper in your other hand, chop those pieces of steak into smaller pieces.
As you're chopping the meat, you'll also use the scraper to kind of pull the meat away from the spatula like this:
It may take a few seconds to get the hang of the motion, but you'll be a chopped steak pro in no time, and then you can use your new skills to make all kinds of sandwiches, like this awesome Chicken Philly!
When the steak is just about done cooking, you can go ahead and mix in some of the diced cooked onions like this:
Then, right when the steak is cooked, go ahead and sprinkle your seasoning on the meat, and you're ready for the next step… the cheese!
Adding the cheese
Immediately when you think that your steak is done, it's time to add the cheese.
First, portion your steak into piles that are about the length of your sandwich rolls. Then, lay a few slices of either American or provolone cheese on top of each pile of meat like this – If you're using Cheez Whiz, you'll add that later:
For an awesome cheesesteak sandwich on the Blackstone, you can even try adding all three of the cheese varieties. In the photo above, I added two pieces of white American cheese to the pile of steak first. Then, after it melted down slightly I mixed and chopped it into the steak. Next, I re-shaped the meat into the shape of my roll and topped it with two slices of provolone.
Building the perfect Blackstone Philly cheesesteaks
Immediately after adding the cheese slices to the piles of meat, open up the bread rolls and place them upside down over top of the cheese and steak like this:
I HIGHLY recommend this technique because it does two things:
It helps the cheese to melt because the bread acts like a "dome" and traps in the rising heat.
The moisture from the meat helps to steam and soften the bun.
After about 2 minutes, the cheese should be more gooey and you're ready to flip!
There is a bit of an art to transferring the meat, cheese, and all of that griddle grease-goodness to your sandwich bread. This is what works best for me after making almost a hundred cheesesteaks on the griddle:
Place one hand on top of the bread, and use your other hand to get your griddle spatula underneath the cheesesteak ingredients. *If you're in need of some good griddle spatulas, these are my favorite!
In one fluid motion, use the spatula to lift the cheese steak ingredients from the bottom (griddle-side) and use your other hand to turn the sandwich bread right-side up at the same time.
Scrape the spatula upside down across the bread to transfer the cheesesteak mixture from the spatula to the bread, like this:
Just be careful, because the melted cheese and the grease from the ribeye is HOT!
If you used a sliced cheese like American or provolone, then your steak sandwich is done. If you're using Cheez Whiz, then now is the time to spoon on the Whiz.
For a Philly cheesesteak with Cheez Whiz, I recommend thinning out the cheese sauce just a bit with a tablespoon or two of half & half or milk. This helps to not overpower the taste of the delicious steak. Here's what my finished Blackstone Philly Cheesesteaks looked like:
And they were absolutely FANTASTIC! Even my carb-conscious wife ate an entire sandwich by herself, because they were that good! And now I can honestly say that I understand all of the fuss about the authentic Philly Cheesesteaks. Like no other sandwich you've ever had!
FAQ's about Blackstone Philly Cheesesteaks
These Blackstone Philly Cheesesteaks really are some of the easiest and tastiest griddle sandwiches that you will ever make! But just in case you've got more questions…
How much steak should I put on a cheesesteak sandwich?
My cheesesteak sandwiches came out perfectly with 8 ounces of ribeye on each sandwich. Not too over-stuffed that they were falling apart, but not too puny either. For reference, my Amoroso rolls were 9″ long.
I don't like Cheez-Whiz. What other cheese to use for Philly Cheesesteaks?
I'm right there with you… Before making this epic cheesesteak on the griddle, I wasn't a fan of the Whiz either. But then I did a little experiment.
To thin out the Cheez Whiz just a bit and make it less overpowering, you can heat it up in a small saucepan with a bit of half and half creamer. I used a ratio of about 1 cup Cheez Whiz to about 3 tablespoons of half & half.
Or, you can also substitute American cheese or provolone.
I don't have a Blackstone griddle. Can I still make a cheesesteak sandwich?
Absolutely! Although a griddle is the preferred cooking method for cheesesteaks, because the large flat surface area is perfect for cooking a large batch of meat and chopping it up over the heat source, you can definitely make cheesesteak sandwiches on the stovetop in a large skillet.
If you're going to make stovetop cheesesteaks, then I would recommend cutting the sliced ribeye into bite-sized pieces before adding it to a skillet, so you don't have to try to "chop" the sliced steak in an unsteady skillet on a burner. You should still use steak slices that are about 1/8″ thick. And be sure to cook the diced onions in the skillet first, and then set them to the side while the steak cooks.
How do I get authentic Philly Cheesesteaks delivered to my house?
If you want to try an authentic cheesesteak but you don't live in Philly, then you can visit Goldbelly. Goldbelly is an online marketplace for famous restaurants to sell their iconic food products to anyone in the US. You can order Lobster Rolls from Maine, smoked brisket from Texas, a birthday cake from celebrity baker Duff Goldman, or tons of other unique and well-known eats.
And of course, Pat's King of Steaks cheesesteaks! Click HERE to check out all of the great foods on Goldbelly!
Although I've got to be honest, I preferred my homemade cheesesteak fresh off the Blackstone griddle!
Authentic Philly Cheesesteak Recipe
Want to add these awesome Blackstone Philly Cheesesteaks to your list of griddle sandwich recipes to make? You can use the recipe card down below to print out the full Philly Cheesesteak recipe:
Blackstone Philly Cheesesteaks
These Philly Cheesesteaks on the griddle are as close to authentic as you can get! With Amoroso rolls, thinly sliced ribeye steak, and your choice of cheese, these Blackstone Philly Cheesesteaks are sure to be a new favorite griddle sandwich!
Ingredients
24 oz thinly sliced ribeye *I had my butcher slice the ribeyes at 1/8" thick.
3 hoagie-style rolls, about 9" long Amoroso rolls are recommended
diced onions optional
salt and pepper
Cheese Options (Select One):
3 slices American cheese per sandwich
3 slices provolone cheese per sandwich
Cheez Whiz
Instructions
Add a small amount of your favorite cooking oil to the heated griddle surface and spread it around with your spatula. Add the diced onions to the oiled griddle and sauté until translucent. Season onions with salt and pepper, and move them to the cooler zone on your griddle to keep warm while the steak cooks.

Add the thinly sliced ribeye steak to the griddle in a thin even layer. Using your spatula with one hand, hold a few pieces of steak in place as you use the bench scraper in the other hand to "chop" the steak slices. As you're chopping the meat, you will use the scraper to kind of pull the steak away from the spatula in one fluid motion. *If you're making cheesesteaks in a stovetop skillet, I recommend cutting the sliced ribeye into bite-sized pieces before adding it to the skillet.

When the steak is all chopped, continue to cook on the griddle stirring often, just until all of the pink is gone from the meat. Do not overcook.

Season the steak with salt and pepper or your favorite all purpose seasoning. Add some of the diced onions. Mix together briefly.

Portion the steak into 3 even piles on the griddle that are each about the same length of your hoagie rolls. Place cheese slices on top of each meat pile. (Recommend 3 slices of cheese per sandwich – If using Cheez Whiz, you will add that later).

Immediately after adding the sliced cheese, place the hoagie rolls upside down and opened on top of the meat and cheese. Allow the rolls to steam and the cheese to melt for about 2-3 minutes. Then, use your spatula and transfer the cheesesteak to the rolls. *Alternately – If using Cheez Whiz, place the rolls on top of the steak piles for about 2 minutes for the rolls to steam. Then, add the steak to the rolls and top with warm melted Cheez Whiz.

Allow cheesesteaks to cool for a few minutes before serving.
Notes
Feel free to mix and match the cheese options.  Cheez Whiz is typically the cheese of choice in Philly, but my cheesesteaks were fantastic when I combined all three of the cheese options (2 slices of American, 2 slices of provolone, and a drizzle of Cheez Whiz).
If using Cheez Whiz, I recommend heating it in a small saucepan with a bit of half & half.  Mix the cream and Whiz together well as the cheese is melting.  This helps to thin out the Cheez Whiz a bit so it does not overpower the taste of the steak.
Pinterest User? PIN these Blackstone Philly Cheesesteaks to your Blackstone griddle recipes board to save it for later:
Reader Interactions